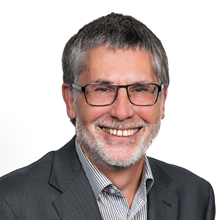 Max Robins
Max is currently CEO of CHT a charitable trust in Auckland. They provide residential care facilities, dementia, hospital and home care services from 14 different locations in Auckland and the Bay of Plenty.
Max was employed by Taranaki Area Health Board in 1988 as Human Resources Manager, when the State Sector Act brought General Management to the public sector. He was involved in extensive change programmes during his years with that organisation. Max was promoted to CEO in 1991 and reappointed to that role when Crown Health Enterprises were formed in 1993.
Max initially trained as a psychologist and worked as a counsellor for 10 years. Max has a Masters Degree in Management and Post Grad Diploma in Business and Administration. Max is a Fellow of NZ Institute of Management, Associate Fellow of the College of Health Services Executives and a member of the Human Resource Institute of New Zealand.
Email Max at mrobins@cht.co.nz