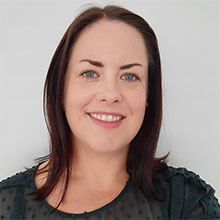 Rebecca Chapman
A year on from joining the NZACA in February 2020, Rebecca has moved from the role of Business Support Coordinator to the newly created position of Support Analyst.
The NZACA is seeing an unprecedented amount of work in the policy space and Rebecca is supporting the work of the CEO, Principal Policy Analyst, and Data and Insight Specialist through policy research and analysis, communicating information to the membership, and assisting with coordinating surveys. She is the first point of contact for members with policy related queries.
Rebecca has a keen interest in the issues surrounding the aged cares sector and is looking forward to the challenges that will come with her new role.