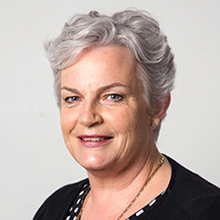 Carolyn Cooper
Carolyn joined Bupa New Zealand as Director Clinical Service Improvement (CSI) in April 2017. In July 2017 the Director of Operations and Director of CSI Roles were combined and the role is now known as Chief Operating Officer and Lead Nurse NZ.
Prior to joining Bupa Carolyn worked as the Executive Director Clinical Operations for the Illawara Shoalhaven Local Health District based in Wollongong, New South Wales.
Carolyn Cooper was appointed to the InterRAI New Zealand Governance Board in February 2018 as the Nurse representative.
Carolyn has extensive experience in emergency nursing, older persons' health, rehabilitation, orthopaedics and executive management. She has previously worked for the Public Health system in NZ and Australia, in the private health sector and for ACC.
Carolyn worked as a General Manager for Canterbury DHB, has been the Chief Operating Officer at Wairarapa and Hutt Valley DHBs, and also worked as the Executive Director of People and Culture for the Wairarapa, Hutt, and Capital and Coast DHBs.
Carolyn worked in the Australian Bupa Villages & Aged Care business as Chief Operating Officer, from November 2018 until July 2019.
Carolyn is currently seconded to the Managing Director role for Bupa Villages & Aged Care New Zealand.