NZACA Workshops for Registered Nurses in Aged Care – May 2021
The New Zealand Aged Care Association Education Trust presents workshops for Registered Nurses in the aged care sector in the following locations:
Wellington Wednesday, 28 April – Te Rauparaha Arena
Christchurch Wednesday, 5 May – Tait Technology Centre
Dunedin Wednesday, 12 May – The Forsyth Barr Stadium
Auckland Tuesday, 18 May – The Heritage Hotel
Tauranga Wednesday, 19 May – Trinity Wharf Tauranga
Rhonda Sherriff, NZACA Clinical Advisor, will present an informative session titled "What is in your Pandemic Toolkit" and another on advanced care planning.
We are pleased to have secured Dr Michal Boyd for this round of workshops for a presentation on ARC nurses critical thinking. This presentation will discuss pharmacological and non-pharmacological approaches to caring for residents with chronic diseases and acute exacerbations of these chronic diseases. The presentation will use case presentations to elucidate important concepts. Topics and information to be covered is based on the Health Quality and Safety Commission's Frailty Care Guides.
Topics that will be discussed:
Falls and post fall assessment
Assessing and treating syncope and collapse
Assessment and treating fractures/contractures
Assessing and treating respiratory acute and chronic illness
Assessing and treating cardiac issues including heart failure
Review of urinary tract infection assessment and treatment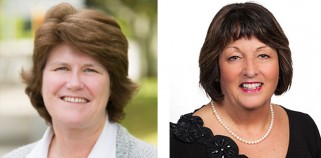 Dr Michal Boyd and Rhonda Sherriff
Workshop sponsor Whiteley will also be presenting on Infection Control (virus identification and management).
Pricing
NZACA member early bird price: $250 + GST (valid until 9th April 2021)
NZACA member price: $270 + GST
NZACA member: 3+ attendee price $250 + GST
Non-member price: $295 + GST
Registration on the day begins at 8.30am, and sessions will start promptly at 9am, concluding by 4.30pm.
Lunch and tea break meals will be provided and participants will receive a certificate of attendance via email after the workshop.
Cancellation policy: All cancellations must be in writing (email) 14 days prior to workshop. Cancellations between 14 days will incur an administration fee of $80 + GST. There will be no refund eight (8) days prior to the date of the workshop, but you may send a substitute staff member providing we are advised of this in writing.
For any enquiries please contact Events and Marketing Specialist, June Murugan – june@nzaca.org.nz or 04 473 3159.
Thank you to our May 2021 workshop sponsors: